Discover more from The Cosmopolitan Globalist
Claire Berlinski writes about international news and trends, liberal democracy and its discontents, and living in interesting times. Her readers and writers join her in what has become Substack's premier salon for the discussion of global affairs.
Over 13,000 subscribers
The Alternative to Hegemony isn't Peace
Thank you to everyone who wrote to me yesterday and contributed to the book. I'm very grateful. I was touched by the number of small contributions. These really make a difference. If you wondered whether sending a dollar or two was worth it, please know that together, you paid a big bill—to my veterinarian—over which I was losing sleep.
Thank you.
---
This is the simplest formulation:
A. The alternative to American hegemony is not peace. It is war.
B. Americans refuse to play the role of hegemon.

∴  War. 
World war. With horror and suffering the likes of which even we, jaded creatures of the 21th century, can't imagine. 
We've now elected two presidents who failed to grasp that the value of the Pax Americana. Two presidents who did not understand that for all its flaws and hypocrisies, American hegemony was infinitely better than the unfathomably destructive status quo antebellum.
Both Obama and Trump were given a mandate—in three separate elections—to "get us out of endless wars."
That, perhaps, is why they don't pay much attention to the details of these "endless wars," save to say that they oppose them. That is why some could find compelling such views as Andy McCarthy's: He writes, in an essay in National Review, that the violence in the Middle East is just the "Muslim default condition."
having U.S. forces "deter further genocidal bloodshed in northern Syria" is not a mission for which Americans support committing our men and women in uniform. Such bloodlettings are the Muslim Middle East's default condition, so the missions would never end.
Shameful. Fraudulent. Cowardly.
---
Once, perhaps, is an accident. Three presidential elections in a row is not. Everyone in the world can see that the United States no longer wishes to maintain its global prominence, nor its security commitments, nor its alliances, nor its promises.
It took us twenty years, but we have pissed away the Pax Americana.
Americans have constructed pleasing narratives about this, of course: Our allies "don't pay their fair share," or they "don't appreciate us," or "violence is their default condition." These are, truly, just the lightest of face-saving rationalizations. Our alliances were never a business proposition; the point was to keep the peace, and the value of peace is—or was—self-evident.
At the turn of this century, an alliance with America was held in the highest of value: allies and foes alike believed that we were committed to these alliances. This belief sustained an archipelago of free states in brutal seas. The Republic of Korea, Israel, the Baltics, and Taiwan—all owe their existence to an alliance with the United States. Our alliances guaranteed the independence of much larger nations and regions of freedom, too. Europe—first Western Europe, then all of Europe—and most of East Asia.
Bringing security—and the prosperity that devolves from it—to so much of the planet was historically unprecedented. Nothing like this level of human well-being had ever existed before. It was our greatest achievement. What compares with the Pax Americana? Walking on the moon? Not even close.
---
Perhaps as a consequence of this success, Americans have become delusional. We have come genuinely to believe that we are the only agent in the world. Therefore, if only we were to stop waging wars, war would stop.
Since Obama's first election, we're been pursuing an ever-more isolationist foreign policy. We have had chance after chance to reject this trajectory, but we have not. In the 2016 election, we could have elected any number of candidates—Republican or Democrat—committed to upholding the Pax Americana. We did not. We were drawn, overwhelmingly, to the candidate who ran on the slogan and the premise of the inter-war, pro-fascist isolationists: America First.
The ideals of the America First Committee may perhaps be seen as the default American view of foreign policy and the world. Their posters and slogans once seemed a complete anachronism; they now seem familiar and contemporary again: The US must build an impregnable defense. Liberty and war are incompatible. Other people's quarrels don't affect us.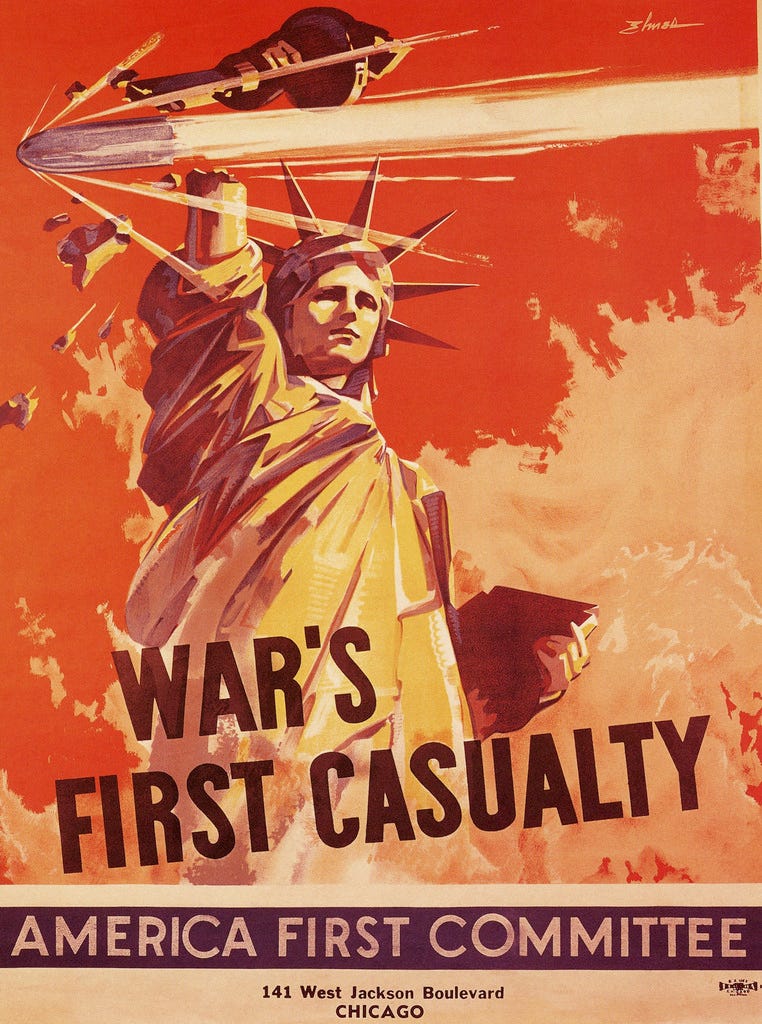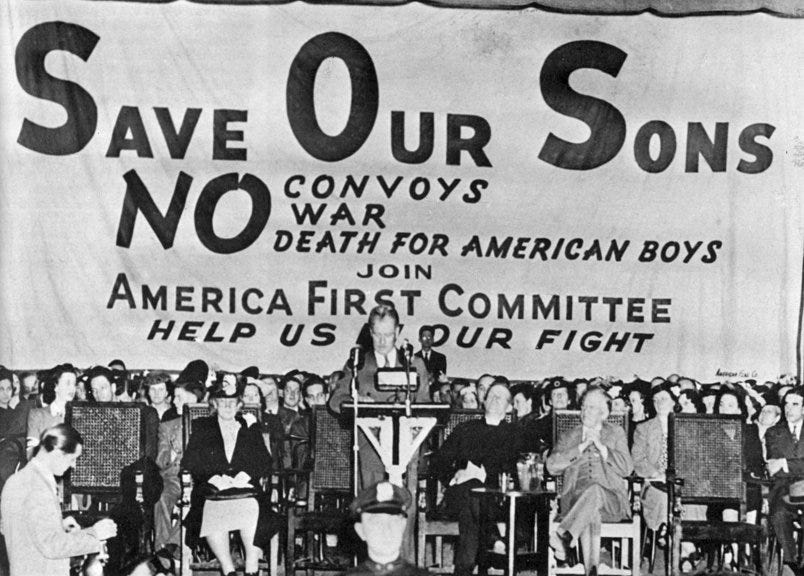 The debate became moot on December 7, 1941. The position remained discredited so long as the veterans of those wars were still alive.
Then the men with an instinctive understanding of the causes and consequences of the Second World War began to leave this world. The word "isolationist" ceased to be a slur.
The wars in Iraq and Afghanistan had an effect upon the American psyche much like that of the First World War, giving rise to a sense of war's great futility and waste. The slow and fragile recovery from the Great Recession heightened our isolationist instincts, much as the Great Depression of 1929 had done.
And we have made exactly the same mistakes.
---
I commend to you the Syria Livemap. It's 7,000 miles away, as Trump says, but you'll notice that you receive information about it in real time. So does the rest of the world.
At least 100,000 people have been displaced. ISIS has claimed a rocket attack against a US base in Shadadi. Wounded civilians continue to pour into Tal Tamr Hospital, which neither has enough capacity or blood. French and Brazilian journalists have been injured in the bombardment:
Turkish Arab mercenaries have been killing Kurdish captives and filming their war crimes.
---
The former ISIS fighter Abu Ahmed al Halabi—who left in disgust with their brutality and joined a non-jihadist rebel group—explained ISIS's strategy to journalist Mitch Prothero. Its fighters have been organizing in detention for just such a moment. And Trump, certainly, was told this. He decided to ignore it.
All of the big bosses in Daesh are Iraqis that were in jail together during the American occupation. The group that Abu Musab [al Zarqawi] founded in Iraq in 2003 was all sent to Camp Bucca, it's where they organized Daesh [ISIS]. Prison is like their home.

Daesh will be organized inside the prisons and ready to attack the guards and escape. Outside the prisons, Daesh will be watching the guards and defenses and planning an attack, at any of these prisons they know they can get an entire [battalion] of fighters if they succeed. They have people watching right now waiting for a chance. …

The women might escape al Hol themselves but the Daesh bosses will be watching the prisons holding the fighters first. They want those thousands of mujahideen so they can also fight the Kurds and Iraqis. If they take one prison, they will use those new guys to take another prison and then it will be just like Mosul" [in 2014].

These are very careful people. They will have planned to attack at the perfect time and will have trucks and guns waiting for all the men they free.
There is close cooperation between the fighters in these prisons, the families in al Hol, and the units that are still free in the desert between Iraq and Syria. Some 12,000 fighters—including 2,000-odd foreigners—are in SDF prisons. There are 70,000 women and children in al Hol. Hundreds of women there remain committed to ISIS.
"The decision to withdraw makes us reconsider our absolute confidence in America, really it's a stab from the back, it's betrayal and betrays the principles of America," wrote the Syrian Kurdish journalist Mahmoud Bali to journalist Danny Gold on Wednesday night. "Thousands of our people are threatened with death by Turkey. Massacres will really happen."
Yes they will.
The refugee influx will overwhelm neighboring nations, creating even more instability.
Yes it will.
---
Leaders and publics around the globe have come to accept that Americans no longer wish to maintain the peace. Everyone is adjusting accordingly. Some view this with a sense of outrageous good fortune, some with horror. None with respect.
Obama promised that fundamental conflicts would disappear with magic words of emollience. Americans wanted to believe this. It wasn't true. From watching the recrudescence of a defeated enemy in Iraq, Americans might have learned certain hard truths about the world. But they chose otherwise.
Rather than electing a politician with a more robust connection to the Reality Principle, they chose a president who purports to solve problems with outright magical thinking. We're having a "love affair" with a North Korean despot. "We've totally defeated ISIS."
Americans want to believe. The alternative is too horrible to imagine.
So we can't stay there forever … in the case of Turkey and the Kurds, which I think I understand better than most … and by the way, Iraq was the single worst decision this country has ever made. I don't think our soldiers should be there for fifty years guarding a border between Turkey and Syria when we can't even defend our own borders at home. And you know, it's a long way. And we did our job. And we defeated ISIS. You wouldn't believe … the military-industrial complex … We captured a lot, a lot were killed, but we did it very quickly, and we did what we should have done.
He boasts that we snuck in and got "the Beatles, the ones who chopped off heads." Everyone applauds.
No matter what decisions we make, the media will say it's the wrong decision. If I say we're going to stay and fight, they're gonna say "We love war." So despite all of the lives lost, the blood spilled, and it's less safe now and they fight. That's what they do. They fight.
---
In reality, Trump's decision has a concrete and immediate meaning:
(From the Turkish: "Who knows how many generations will pay for it?"
---
New: Trump has just ordered a withdrawal of all US forces from northern Syria, exactly two days after Defense Secretary Esper promised that the United States was not "abandoning" its partners in the campaign against the Islamic State.
Trump has announced, on Twitter, that it's all fine with him. "Others may want to come in and fight for one side or the other," Trump said. "Let them! 
---
What is apt to happen as a consequence?
Europeans, seeing that the NATO alliance is no longer worth the paper it's written on, will seek a separate peace with Russia and sell out Eastern Europe.

Israel's chances of surviving are dim.

The CCCP will crush Hong Kong, and follow it up with Taiwan.

ISIS will scuttle about in the ruins. 
And what will happen to the United States?
Do we really believe that this global war will leave us untouched?
---
This is the heart of it. It is beginning already. We are losing. Trump made a catastrophic blunder with Turkey and Syria—one worse than Obama's red line, far worse than Libya, and worse than our precipitous withdrawal from Iraq.
Europe is already giving in to Putin because it no longer trusts us, cannot unite itself and stand up to Putin, and, growingly, can't see the difference. 
Why can it not, then, at least be independent? Because thousands of years of European rivalry, distrust, and blood spilled in amounts literally unthinkable have permanently left Europe unable to function without external leadership. We've destroyed NATO; it exists now nominally, its heart is no longer beating. No European now believes we would come to his defense. 
---
We face behemoth rivals in Russia and China, rivals that are structurally hostile to us. By structurally hostile, I mean that to survive, these regimes must discredit liberal democracy. Why? Precisely because illiberal democracies are genuinely democratic. Someone like Putin, for example, cannot afford to just let us be, because Russians vote. They are not, like North Koreans, hermetically sealed from the world. You can only shape people's beliefs up to a point. Information enters the country; Russians travel abroad. If the Russian people come widely to believe that liberal societies are vastly more successful, they will insist upon Russia's liberalization, which would spell Putin's doom. Chaos and dysfunction in liberal democracies are necessary to the argument the Kremlin makes to the Russian public; to wit, that liberalism does not work there, and it will not work here. Because he cannot jam or switch off all knowledge of the external world, as his totalitarian predecessors could, this means that it is essential to his regime's survival that liberal democracies genuinely be in a state of chaos and dysfunction, so that Russians, and the world over which Russia seeks to exert its influence, can watch this dysfunction endlessly on our own television news channels, to which of course they have unimpeded access on the Internet.
This is why, as it is all-too-slowly dawning on us, Russia spends billions to influence the West's information environment. The goal is just to create the biggest mess he can create. The West must be in a state of chaos and dysfunction. 
Thus they study and prey on the inevitable divisions and grievances of the countries they then saturate in propaganda. They have aided—to a degree that can't be quantified, but is surely considerable—the transformation of mainstream American conservatism into the hellish political incubus it has become.
And it has been so easy for them to do this. The Soviet Union pursued the same aims, using the same techniques. They planted false stories in newspapers abroad; they spread rumors; they stoked racial and ethnic tensions. But this was done by a small division—Service A—of highly trained and skilled operatives who worked abroad under obviously dangerous conditions. The same job can now be done from a basement in Moscow—by robots. Russia's budget for overseas propaganda operations now massively exceeds the Soviet Union's—and they are get so much more bang for the buck out of it.
Because Russia is exceptionally experienced and skilled in information warfare, Russia's efforts to undermine our stability now pose the primary threat to liberal democracy—what's left of it. But all illiberal democracies will strive to undermine liberal democracies just as Russia does, because they are all under the same constraint.
We should expect them all to do so in the future—in the same way—particularly since they have now seen how easy it is to do. We should also expect such regimes to cooperate, opportunistically, to our detriment, even if the geopolitical logic of such their alliance isn't immediately obvious. We should expect, for example, these regimes systematically to work to undermine international human rights bodies, treaties, and norms. They will disparage these as interference in their "internal affairs," or attacks on their "sovereignty." They will support each other in undermining every institution, norm, and treaty upon which the liberal order was built. We have already seen a critical such norm destroyed—the Geneva Convention on refugees. Much more is to come.
We have naively imagined that our relationship with illiberal democracies will improve if we cede to them their sphere of influence and mind our own business. But hostility to liberal democracy is an essential, not an optional, element of this regime type. Just as capitalism and communism were inherently hostile, liberalism and illiberalism are inherently hostile. For their regimes to succeed—for the New Caesars to gain and wield as much power as possible within the formal parameters of democracy—our regimes must fail. 
It is almost needless to say at this point that the rise of this type of regime in Russia, Turkey, and Eastern Europe is a significant threat to the unity and political stability of Europe, in particular, and to liberal democracy's strength and global influence, everywhere. But we do not yet seem to grasp it.
Throughout the Cold War, it was widely understood in the West that communism was a serious competitor to liberal democracy. Western statesmen, and ordinary citizens in Western countries, correctly appreciated that communism was an intellectual competitor, in that the ideology purported to explain the world—its history and trajectory—more accurately than liberal democracy; it was a moral competitor, in that it purported to be a superior solution to eternal human problems; and it was a power competitor, in that states such as the Soviet Union and China advanced their national interests under the banner of this ideology. Every American who grew up during the Cold War understood that our system of governance had a rival. We took this rival seriously. We were uneasily aware that liberal democracy could lose to it, and we struggled to ensure it would not.
The New Caesarism—the new mafia state with a charismatic head—is a deadly serious a competitor. Powerful states have harnessed this ideology—as they did fascism and communism before it—to serve their interests globally.
The implications of this still do not seem clear to us, even as the headlines daily reveal more evidence about the extent of Russia's interference in the 2016 elections. We listen thoughtfully to scholars who tell us we have succumbed to Cold War propaganda, that Russia no longer poses the threat it did in the Soviet era because its rulers no longer embrace an ideology that pretends to universalism. Or that it's all a "hoax" perpetrated by the "Deep State." This is wrong. They do and it does and it is no hoax whatsoever.
When Secretary of State John Kerry said of Russia, "You just don't in the 21st century behave in 19th century fashion by invading another country on completely trumped up pretext," he revealed a world of incomprehension. That's exactly how states will behave in the 21st century. We cannot afford this kind of incomprehension. It is precisely why we failed to anticipate Russia's efforts to hijack our elections. It is why we were stunned. It is why we were defenceless. It is why we now find ourselves facing a disastrous constitutional crisis. These  countries are not a group of benighted "backsliding" nations. They are the global vanguard, and they are our deadly enemies. 
Liberal democracies possessed great inherent strengths compared to Soviet communism, particularly in their creativity, their openness to new ideas, and their economic dynamism. We still have these advantages. But liberal democracies have inherent weaknesses compared to illiberal democracies. It's a journalistic cliché to point out that Putin, like a judo master, specializes in using our strengths against us. The simile is painfully apt, given that he is literally a judo master, but it is indeed the right simile.
Like their authoritarian forebears, these states are, in reality, repressive, dangerous to their citizens and their neighbors, and an affront to human dignity. The nations in its thrall are neither happier, more prosperous, nor more decent than liberal democracies. To the contrary. But this does not matter. This did not prevent their forebears from advancing their interests through the vehicle of their ideology. The new authoritarian states are much better at doing this. The evidence of this is everywhere, but to start with the obvious, look at the Oval Office. Until very recently, this scenario was literally unimaginable, outside of fiction. The capture of the highest office in the land by a figure like Trump—aided by Russia, the world's foremost state sponsor of New Caesarism—has happened. 
Donald Trump is reading from a script, down to the smallest details.  Every scene we've seen emanating from the White House is part of a movie that much of the world has already seen.  It has been superficially adapted to American culture, but only superficially. Make a note of those metaphors: "This scene." "This script." They're not careless or accidental. That's a key aspect of the New Caesarism: the conflation of entertainment and politics. 
Could it be a coincidence? Of course not. The New Caesars keenly study one another. They closely follow and emulate each other. They pass similar legislation. Putin's Russia has been a model and inspiration to aspiring Caesars the world around. They carefully study the way he captured the media through state enterprises and oligarchic cronies. They model their laws on Russian laws designed to dismember civil society. They study his use of the judiciary as an instrument of harassment. They emulate his methods of propaganda and disinformation. Do you really think ideas like this just spontaneously pop out Donald Trump's empty head? 
@realDonaldTrump With all of the Fake News coming out of NBC and the Networks, at what point is it appropriate to challenge their License? Bad for country!
We have safeguards that few other countries have: Our founders deliberately built our country to be resistant to Caesarism. But too few of us understand these safeguards, or the ideas behind them—and many of the safeguards have already failed.
We are screwed.
---